How cute are these dried fruit stuffed baked apples???? They're as delicious as they are adorable and perfectly festive for the upcoming new year for the trees, Tu B'Shvat!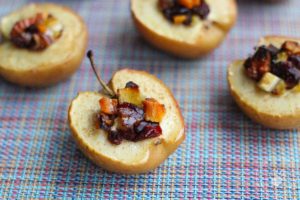 Since Tu B'Shvat takes place in the dead of the winter, it's a bit more difficult to celebrate with a plethora of fresh fruits than in the spring or summer so we make do with what we have and host celebratory feasts with dried fruits of all varieties.
The reason we celebrate the new year for the trees at this time of year has little to do with our harvest season and lots more to do with the rain season in Israel. It takes 4 months from Sukkot for the rains to saturate the soils and nurture the fruit bearing trees. These dates are important in calculation of tithes and to know when fruit bearing trees turn three, at which point we are finally allowed to enjoy the fruits of their labor ?
While I enjoy dried fruits as much as the next person, I must admit they're not all created equal. Dates, for instance, are one of my favorites and can always be found in my cupboard. But the kind I keep on hand are unpitted king medjool dates. They're big and plump and sweet, unlike the pitted ones that come in an assortment of dried fruit. Same can be said of any particular fruit. So here's my solution to assortment packages, or the few stray leftovers from each container of the good stuff you may have lying around.
Chopping the dried fruits can get pretty sticky. Spray a sharp knife with non stick cooking spray for an easier time gliding through them. Chop them as big or small as you'd like. Mix up all your favorites or stick with just one or two varieties. While we're customizing, you can brush with honey or not, sprinkle cinnamon sugar or not. Your apples, your decisions.
The apples in the photo are very small. I thought I was being smart buying them for my kids who think 2 bites constitute eating an apple. But they only like green ones so I failed miserably on that front. I halved them and used a melon baller to scoop out the seeds and some flesh and create a space to cradle the chopped dried fruits. If you have larger apples, feel free to create a larger well. Or keep it small. I won't tell you how to live your life. Larger apples may require longer baking times, don't say I didn't warn you.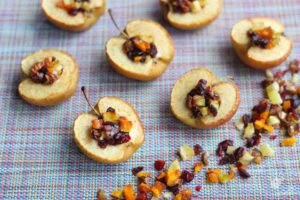 However you choose to stuff them or bake them, I assure you, serving them warm with some ice cream is always a good idea. Happy new year, trees!

Dried Fruit Stuffed Baked Apples
Ingredients
5 small/medium apples
½ cup chopped mixed dried fruit
1 Tbsp Honey thinned with ½ Tbsp hot water (optional)
Cinnamon sugar (optional)
Instructions
Preheat your oven to 350°F.
Halve the apples and use a melon baller to scoop out the seeds and as much flesh as you wish to be filled with fruit.
Stuff the apples with the chopped dried fruit.
Brush with honey, if desired, and sprinkle with cinnamon sugar, if desired.
Bake covered for 20 minutes. Uncover and bake an additional 10 minutes or until desired doneness.