I'm not a sneaky person. I don't believe in tricking anyone into eating anything because I wouldn't want to be tricked, myself. Howeverrrr, I totally get it. Sometimes you've just gotta do what you've gotta do in order to make the little people eat. No judgement here. On the contrary, here's some help! This hidden veggie meat sauce is so good, it fooled the adults at the table too. Not that I was being sneaky about it.. but I could've been.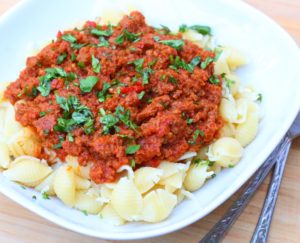 The original plan for dinner the night this recipe was born, was spaghetti and meatballs. But.. mommy brain kicked in when I placed my grocery order and I forgot the spaghetti. Oops. OK. Onto plan B.
I did a quick scan of the kitchen and saw some sad looking veggies. You know, perfectly edible but they've seen better days. Normally, I'd have diced them up and sauteed them but these days I'm usually holding Baby B and needed a more hands off approach. Scan the kitchen again. Aha! Food processor. Yesssss, we're getting somewhere.
I threw the veggies into the food processor bowl, gave them a whirl and sauteed them in some olive oil. Then I added some ground beef and some spices. Oooh, tomato paste! Yep, join the party. Simmer, simmer, drool. Simple ingredients turned into comfort food faster than I could've hoped. Thank goodness! I was starving.
I *think* it would've worked out really well to add raw pasta and some water right into the pot but my picky ones won't touch meat sauce and I needed to feed them too. I know. I'm a merciful ruler. So I boiled up some pasta the old fashioned way and fed the masses. Her highness and the adults gobbled up the entire pot's contents before anyone could say "veggies?"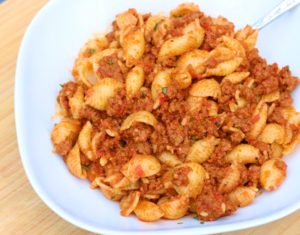 Before you ask, this would be AMAZING over zoodles. You don't even have to cook them first, just toss with some hot meat sauce and enjoy. It would be great with any other pasta shape or gnocchi too. Feel free to use whatever veggies you have lying around. You can skip the jalapeno, obviously, but the heat mellows as it cooks and gives a nice flavor to the sauce.

Hidden Veggie Meat Sauce
Ingredients
2 Tbsp olive oil
1 large or 2 small carrots
1 medium onion
1 stalk celery
1 red bell pepper
1 jalapeno pepper
6 garlic cloves
1.5 lbs ground beef
1 6oz can tomato paste
1 tsp chili powder
pinch of sugar
salt and pepper to taste
Instructions
Process carrots, onion, celery, red pepper, jalapeno pepper and garlic in a food processor using the S blade. Scrape down the sides and process again until there are no large pieces remaining.
Heat olive oil in a large, deep skillet or dutch oven. Add the pureed veggies and saute a few minutes on medium heat. Season with salt and pepper.
Add ground beef. Mix with the veggies and break into small chunks with a wooden spoon as it browns.
Add tomato paste, chili powder and sugar. Mix well.
Allow to simmer for 10 minutes. Taste and adjust seasonings if needed.
Serve and enjoy!