I never really cared for wasabi peas. I like wasabi and I like peas but together, i just don't get it. Don't ask me why I bought them. I must've been really hungry and slightly hopeful while shopping. We all know the dangers of shopping while hungry. It's when you fall victim to overbuying random things you don't even like. Don't let hungry shopping happen to you. Bring a granola bar along or something.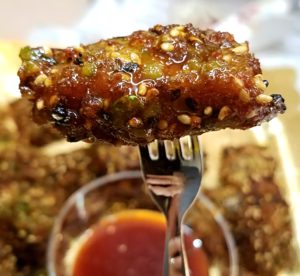 Or maybe don't, because sometimes the most beautiful things come from the most unexpected places. One afternoon, while mindlessly popping wasabi pea after wasabi pea into my mouth (and not enjoying them in the slightest. Why do I do that?!) I finally declared "I don't even like these!!" followed by "...but there's potential here." And just like that, the next day I smashed them to smithereens, fell in love and never looked back. As far as I'm concerned, this is the only way they should be sold. Pre-smashed would be great but until then, just give them a whirl in your food processor fitted with the S blade. Store in an airtight container and use on everything.
They're not all that spicy to begin with so don't let the wasabi in the title scare you off. If you typically can't take the heat, you'll still likely enjoy them. Try them, try them and you may. Try them and you may, I say. But since the Hubb and I love spicy food, we felt it needed a dipping sauce with a kick. We are so wise. It absolutely did and after trying multiple (gross) combinations of every condiment I had in the fridge and pantry, we struck gold. Sweet and spicy, ever so slightly smoky and as simple as can be. Two new favorites born of a random decision to purchase a snack I never liked. I just love happy endings.

Wasabi Pea Crusted Chicken with Smoky Hot Maple Dipping Sauce
Ingredients
4 lbs chicken cutlets, cut into cubes or strips
Salt to taste
¼ cup pure maple syrup (NOT pancake syrup)
1 package wasabi peas
½ cup toasted sesame seeds
Oil for frying
¼ cup sriracha
1 cup pure maple syrup (NOT pancake syrup)
Instructions
In a large bowl, combine chicken pieces with salt and maple syrup. Mix well and set aside.
Place wasabi peas in the bowl of a food processor fitted with an S blade and pulse until finely crushed. Combine wasabi pea crumbs with sesame seeds.
Coat each chicken piece in the wasabi pea and sesame seed mixture.
Fry until golden brown and cooked though. (Alternatively, these can be baked but they will retain their bright green color. Place on a parchment lined baking sheet and spray generously with cooking spray. Bake uncovered on 450°F for about 15 minutes)
Prepare the dipping sauce by combining sriracha and maple syrup. Adjust to your desired heat level using more or less of each until you find the right balance. Serve alongside the Wasabi Pea Chicken Nuggets.