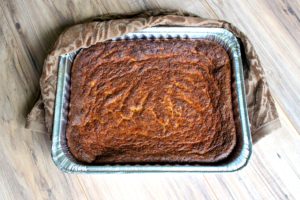 I'm just going to assume you've tasted potato kugel and think you know what it's all about. You don't.
It has nothing to do with that sad, overlooked, eggy, oil-dripping brown mush they serve at catered Shabbos lunches. Good potato kugel is an experience, actually. A delightful experience. Even before it's ready, the aroma fills the house and pulls everyone into the kitchen with smiles because they know. That smell can only mean one thing and they want a taste. Immediately.
Those who know, know the best bite is right when it comes out of the oven. Totally worth burning the roof of your mouth, if you ask me. It's crispy on the outside and mushy on the inside and just oh so wonderful. It's perfectly balanced and perfectly seasoned. It's like a warm hug for your stomach and your soul. And I'm not exaggerating. When done right, potato kugel is the ultimate comfort food.
My mom is the original potato kugel maker in our family. I never even realized how good I had it growing up until I tried to make kugel on my own. It wasn't a warm hug. It didn't warrant burning the roof of my mouth. The problem was that my mom didn't measure anything. She eyeballed it each week and each week she made kugel magic. It didn't quite work out that way for me. I spent about two years watching her and measuring and experimenting until I finally made my own magic. Worth every second.
See.. the thing is, each oven is different. The recipe states that it needs to bake uncovered for two hours at 450°F. If your oven is too hot though, and you see it's already quite brown after just an hour, lower the temp to 350°F for the remaining hour. Lowering the temperature is fine, just make sure it bakes the full two hours. That's non-negotiable. Also, who are we kidding? Everyone makes it in a disposable 9x13" pan. Including me. Every week. I'm not even going to pretend otherwise.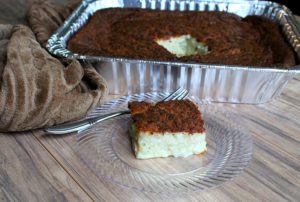 The only question left to ask yourself is what's your favorite piece? The Hubb and I are die-hard crust people. The Jester is strictly a "middle piece" kinda guy (he actually hands over the top crust too. I'm convinced it's why we still keep him around.) The kugel in the photo was cut that way just for him! Dimples has his moods, I stopped trying to guess. Her Highness doesn't discriminate. The one thing everyone agrees on is that there's gotta be kugel every week.. or else..
The recipe calls for two types of food processor blades to be used, the S blade and the Kugel blade. The reason I process the onion with the S blade is so that my picky kids don't get any noticeable pieces of onion in their mouth. Heaven forbid. We all know that would deem this dish inedible for the remainder of their lives and we simply can't have that. The Kugel blade is essential to achieve the perfect kugel texture. I'm thinking that might be why it's called a Kugel blade, but that's just a wild guess. You can use the Kugel blade for both, the onions and the potatoes, if you don't mind sneaky onion bits and you do mind washing dishes. And if you don't have the Kugel blade, you should get one. But in the meantime you can use a shredder blade. The texture will be different but your kugel will still be delicious. Working quickly will ensure a white kugel. This is not the time to dawdle or pay attention to your kids. The boo-boo kissing can wait. The kugel can not.

The Ultimate Potato Kugel
Ingredients
5 lbs potatoes, peeled
1 large onion
5 eggs
¾ cup oil
1 Tbsp salt
Black pepper to taste
Instructions
Preheat your oven to 450°F
Process the onion using the S blade of your food processor, scraping down the sides of the bowl midway to make sure it is finely pureed. Switch to the Kugel blade and process the potatoes. No need to empty the bowl in between onion and potatoes.
Working quickly, crack the eggs into a bowl large enough to hold all the batter. Add the oil and seasonings and mix well. Add the processed potatoes and onion and mix until uniform. Pour into a greased 9x13" pan and bake uncovered for 2 hours.