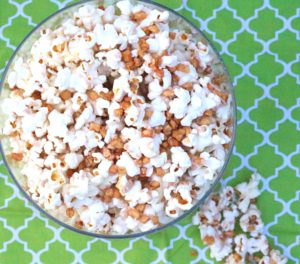 I absolutely love the fall. Aside from the corny, typical crisp-autumn-air type of reasons, I adore fall flavors. And also that's where seasonal allergies and mosquitoes go to die. Mwahaha. But I digress.. Pumpkins and apples and cider and cinnamon and cloves make me swoon and I'll take them over fresh peaches and berries any day. Sorry, summer. I'm over you. This apple cinnamon popcorn totally hit the spot as the perfect segue into fall while the weather out there still feels like summer.
It's sweet and salty, crispy and chewy and just basically the perfect snack in so many ways. And it's my favorite type of recipe. A non-recipe. Sure, for argument's sake I included quantities but this isn't one that requires precise measurements. I grabbed *some* salted popcorn (store-popped. I'm not looking to receive any overachiever awards this week.) and drizzled it with *some* melted white chocolate in which I mixed *some* ground cinnamon. Then, quickly, before the chocolate could set, I sprinkled *some* caramelized dried apple dices. Let it set and munch away. Doesn't get much simpler than that. Tastes even better the next day, if you can wait that long.
"What are you talking about, Esty? I don't see any apples. And why don't you remove the unpopped kernels?" Right, ok. All valid questions. So those golden bits that look like unpopped kernels.. those are pieces of caramelized apple. I didn't quite understand everyone's hesitation as they reached into the mound of popcorn while looking at me with skepticism until someone pointed it out. To be safe, make sure you remove any unpopped kernels before drizzling and sprinkling. Or brace yourself for a delicious game of Russian roulette.
I found the caramelized apple dices in my local supermarket near the sprinkles and toppings, but if you can't find them just dice up some dried apples and toss with some sugar and cinnamon. It won't be exactly the same but the flavor and texture will be close enough. Store in an airtight container so the apple pieces remain chewy and not hard. These would be incredible on homemade caramel popcorn too!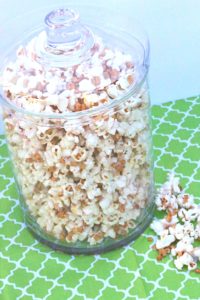 Apple Cinnamon Popcorn
Ingredients
4-6 cups salted popcorn
1 7oz white decorating bar (parve chocolate)
¾ tsp cinnamon
¾ cup caramelized dried apple dices
Instructions
Spread the popcorn in an even layer for best distribution of toppings.
Melt the decorating bar and mix with cinnamon. Drizzle over the popcorn and immediately sprinkle the apple on top so it sticks.
Allow to set. Break apart large chunks and store in an airtight container.