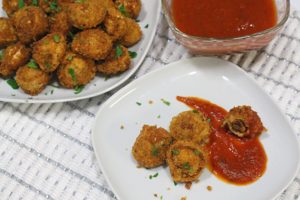 Absence makes the heart grow fonder, right? I wasn't just extremely preoccupied with real life for the past few weeks months.. I was just testing this theory. Okay, lies. All lies. I was totally preoccupied  with real life but I'm back now and look what I brought with me!! Some things are just worth the wait. Deep fried pelmeni are among those things.

I absolutely LOVE this time of year for so many reasons. Everyone is all cheerful and sipping peppermint everythings. We're not sick of the cold yet and all our winter accessories are still exciting to wear and not yet lost. Hat pom poms are still firmly attached and pleasantly poofy. And it is culturally acceptable to fry anything and everything in sight.
Chanukah is one of my favorite holidays and not just because of fried foods (though, really, mostly because of fried foods.) We celebrate miracles during each holiday but there's just something extra magical about Chanukah and the wonder in all the kids' eyes as they stare at the candles burning. And the excitement as they tear open their gift wrap to reveal the awesome gifts they may or may not have previously circled in the toy store circular. And their priceless expressions as they pretend to be surprised when in reality they literally chose their own gifts. Just precious!
But let's talk about the food because that's why we're all here, isn't it? That's why I go anywhere. It's always about the food. Chanukah food doesn't disappoint. One small jug of oil lasted 8 whole days so we buy gallons and gallons of oil and fry endless treats to make sure we fully comprehend the miracle. Now, obviously, you don't have to fry everything for the entire duration of Chanukah but do you really want to be a slacker? I'm a 110% kind of person. So naturally, I fry 110% of our food for 8 days straight.
What are pelmeni and what's the big deal? Well, pelmeni are amazing. But to be more specific, they're basically meat filled tortellini. My mom used to make them from scratch and let me tell you, it's a labor of love! But now, they can easily be found in the freezer aisle of most well-stocked Kosher supermarkets. They come in beef, chicken or veal varieties in a zip top bag. Choose whichever filling option you like best. They're all delicious! Pelmeni are typically boiled in water until cooked through and then sometimes pan seared like dumplings.
So.. one night just before falling asleep, I started thinking about all the exciting new things I'll fry this year and pelmeni popped into my head. What? You expected me to count sheep before bed? Yeah.. no.. really. Anyway, I thought pelmeni would be outrageous if I breaded and fried them and I was right. They're outrageous. Crunchy and satisfying and so so good! Dipped into some warm marinara sauce before each bite.. mmm. Just the perfect way to commemorate that little jug of oil.

Deep Fried Pelmeni
Ingredients
1 package frozen Pelmeni, thawed
1 cup flour
2 eggs
2 cups flavored breadcumbs
Oil for frying
Marinara sauce for dipping
Instructions
Prepare a breading station by placing flour in a bowl. Crack the eggs into the next bowl and beat them. Place the breadcrumbs in a third bowl.
Working with one at a time, coat each pelmeni in flour then egg and finally in breadcrumbs pressing lightly to adhere. Shake off excess.
Preheat oil in a deep fryer or a pot.
Carefully place the breaded pelmeni into the hot oil, a few at a time, and fry until deep golden brown and the meat inside is cooked through.
Serve with warm marinara sauce.