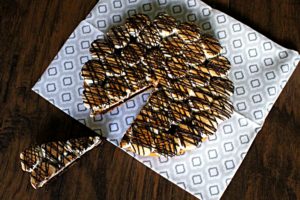 They say time flies when you're having fun. I think it flies especially quickly in the summer.
I'm not a pool kind of person.. or a basking in the sun kind of person. My favorite part of summer is hanging out around a hubb-made bonfire on a chilly night upstate with friends and drinks and s'mores.
I don't remember my first s'more but I have watched a few people enjoy their first ones and their faces were priceless. Eyes closed, instant smile. Bliss. It doesn't matter how old you are, there's just something magical about the combination of toasted marshmallows, chocolate and graham crackers. And this magical combo takes you right back to summer no matter when you eat it.
This pie takes me there. Thanks to pre-made crust, boxed brownie mix and packaged marshmallows, it's almost as effortless as the ones we make at the bonfire. And thanks to a pretty chocolate drizzle over the top, it's all dressed up and ready to stand in as a Shabbos dessert. Be sure to use good quality marshmallows. They stay nice and pillowy soft even after a few days.
Oh, I haven't even told you the best part yet! This recipe makes two pies. Or is this the best part? It freezes well! Yep, even after the chocolate drizzle. And yes, the marshmallows remain pillowy soft even after freezing and thawing. Pinkie promise. Sincerely, a freezer phobic texture snob.
The hardest part of the whole process, aside from resisting gobbling the whole thing in one sitting, is cutting neat slices. The secret is using a hot, sharp knife. When ready to serve, dip a sharp knife in boiling water, wipe it dry and immediately slice the pie. Repeat as needed, or after each slice made. Make sure to wipe off any residue from the previous slice or it'll make an appearance on the top of your next slice.
If your kids like to help out in the kitchen, this is a great recipe to make together. They can help whisk the brownie mix or help arrange the marshmallows over the top of the brownie layer. Just make sure there are no distractions when toasting the marshmallows because they go from perfectly toasted to tragically burnt before you can yell "Get your hands out of your pants!" Trust me. I've been there. This is not a time to multitask. Something will have to be neglected for a few minutes and you know as well as I do that the marshmallows are top priority 😉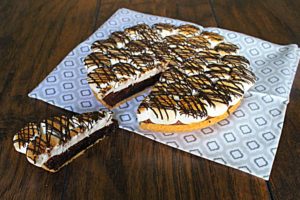 Quickie S'more Pie
Ingredients
2 store-bought graham cracker crusts
1 18.3oz box brownie mix
1 egg
⅓ cup water
⅓ cup oil
36 large marshmallows
4 oz baking chocolate
Instructions
Preheat oven to 350°F. Remove lids from crusts and set aside.
In a large bowl, mix brownie mix with the egg, water and oil as listed. Divide batter evenly between the 2 pie crusts. Place into the oven and bake 30 minutes.
Meanwhile, cut each marshmallow in half width-wise so you're left with 2 circles.
Arrange halved marshmallows cut-side-down on top of the hot brownie.
Broil for 5 minutes or until lightly browned, watching so the marshmallows don't burn.
Remove and cool completely.
When cool, remove pie from pan and break away any of the crust that is above the brownie level. It will crumble away easily.
Melt chocolate by placing it in a zip-top freezer bag, seal and submerge in boiling water until melted. Snip a tiny corner and drizzle the pies.
Allow the chocolate to set, store in an airtight container at room temperature or in the freezer until ready to serve.