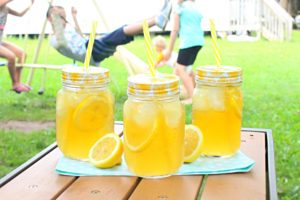 This post is long overdue. Those who cook with tantrums know that it doesn't begin and end with cooking. We wake up with tantrums. We ("don't wannaaaaaa!!!!") go to bed with tantrums. We use the bathroom with our tantrums trying so desperately to claw their way through the door that we worry one day they just might. And that just goes for the stubborn ones of us who haven't yet given in to the open door policy. TMI? Yeah. Our entire existence is TMI. Which is why we could use a drink. Or five. Don't judge.
In my about tab, I mention the Hubb and refer to him as my bartender. This is his brainchild. This beautiful beverage is called a Shandy and it's just the right thing to tone down the tantrums a few notches. And even better, it's what I call a non-recipe. 2 ingredients. Lemonade and beer. You can just throw it together easily without measuring a thing and it's perfect. Simple, delicious and refreshing. Perfect.
A Shandy is traditionally made with a combination of beer and a sweet carbonated beverage, like soda. We use flat lemonade and wouldn't change a thing. Sometimes the Hubb adds some chilled peppermint tea and it adds a nice cool note. If you'd like to try it that way just steep some peppermint tea bags in hot water and cool. Then mix equal parts chilled tea and lemonade with 2 parts beer.
My favorite beers are Hoegaarden and Blue Moon, which are both light and citrusy to begin with. The lemonade complements them perfectly and together, the flavors sing. This combination might even win over some non-beer-drinkers. If that's even a thing. If you think you don't like beer because all you've tried are Heineken or Corona, please try again. Trust me, this ain't your grandpa's beer.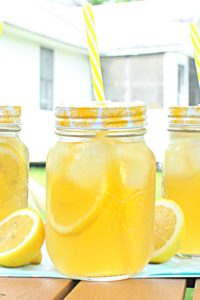 I was about to develop the perfect lemonade recipe to mix with the beer but then I remembered I don't have time to squeeze lemons. And I have a feeling most of you don't either. And I'm cool with that. Because when life hands you store bought lemonade, you make a Shandy and chill out. You deserve it. Cheers!

Shandy
Ingredients
12 oz beer
12 oz lemonade
Ice
Lemon slices
Instructions
Fill each glass with ice and a lemon slice. Fill halfway with lemonade and the rest of the way with beer. Stir to mix and enjoy immediately.