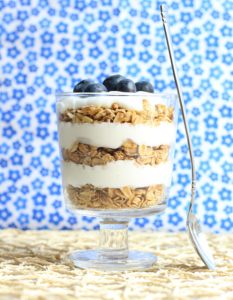 There are no recipes for simple, no frills, straightforward granola out there. What's up with that? There's pumpkin spice granola and trail mix granola and salted caramel granola and banana bread granola and while all of those sound really great, they're just not what I wanted. So I went on.
And then I discovered a whole other slew of recipes calling for flax seeds and wheat germ and whey protein and chia seeds and while all of those sound like I should want to feed them to my family, I just know I'd lose their trust forever. Whey too healthy for us. Whey out of our comfort zones. Anywhey.. I went on.
Found a whole bunch of recipes filled with nuts and seeds and raisins and chocolate and was beginning to think I was the only one on the planet who just wants some granola flavored granola!! And I wanted to keep it nut-free so my kids can take it to school without any issues. So, insistent and determined, I went on.
And on and on until I caved and decided to just wing it and make my own. And like most other things, I don't know why I waited so long because it was so easy and so simply perfect. It's not overly sweet, though you can tinker with it and make it your own if you need more sugar. There are no chia or flax seeds, but you can sprinkle some in if you'd like. There are no nuts or seeds or chocolate, but obviously they're more than welcome to join the party. For every addition, just subtract some of the oats so the coating covers all components just the same. This is blank canvas granola. The little black dress of granolas, if you will. Perfect on its own but easily accessorized to dress it up as you see fit.
While everyone else in blog-land is gearing up for the upcoming holiday with Passover friendly recipes, here I am, in true Esty fashion, procrastinating. If it makes anyone feel better, this is a great way to use up any extra oats you have in your cupboard. See? I can be proactive. And with all the extra cleaning and prepping we do this time of year, it's great to have this easy and healthy snack on hand to munch on when you need a little energy boost.
I love to eat it layered with some plain Greek yogurt and berries or with Granny Smith apple slices and peanut butter. Or just plain. It's THAT good. It makes a large batch but somehow my family manages to go through it very quickly. Whey better than any granola I've ever had before 😉

Simple Granola
Ingredients
8 cups old fashioned oats
pinch salt
⅓ cup brown sugar
½ cup pure maple syrup
½ cup oil
Instructions
Preheat your oven to 325°F.
Combine all ingredients in a large bowl and pour into a parchment lined (16.5"x11") baking sheet, packing down gently.
Bake uncovered for 40 minutes, rotating pan halfway through baking time.
Remove from oven and cool completely before breaking into desired sized chunks.
Store in an airtight container.