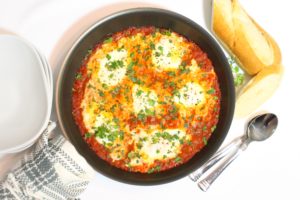 As we enter the land of "OMG it's 5:00 and there's no dinner!" panic, allow me to introduce you to a good friend of mine. Shakshuka. It's quick and easy. It's fresh and flavorful. And it's so fun to say out loud.
We face two main dilemmas during the summer as far as food is concerned. First, we just plain do not want to cook. We're being honest, right? It's too hot out and no one wants to slave over a stove in the summer heat. We have better things to do.. like sip mimosas in a hammock. And by sip mimosas, I mean chug coffee. And by in a hammock, I mean while running after a toddler, reapplying sunscreen and reminding the big ones to stay hydrated.
Dilemma number two is the overwhelming gross miscalculation of how much fresh produce we need to buy and the accelerated rate at which said produce goes bad. Wow, gorgeous tomatoes! Wow, great price! Wow, that's a lot of tomatoes I just brought home...
Then they just sit there and stare at you longingly, questioning their existence. They wonder if they'll ever make it to a plate and fulfill their destiny. They pray for a chance to make your mouth happy. Almost urging you to cook them quickly before.. it's too late. You can't let them down!!
Shakshuka is a dish of eggs poached in tomato sauce. It's a perfect breakfast, lunch or dinner with some nice, crusty bread or warm fluffy pita on the side. You can tweak it to your liking by adding some extra heat with a sauteed jalapeno or temper the heat by cutting out the cayenne. Skip the cilantro if it makes you cringe or add some more if you love it. The pinch of sugar does not make the sauce sweet at all, it helps balance the acidity from the canned tomato paste.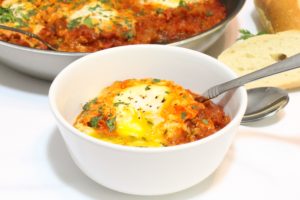 I am a total sucker for runny egg yolks so, naturally, that's the way I like my shakshuka eggs too. If you like yours cooked all the way through, A. I don't understand you and B. just simmer for a few minutes longer than instructed so the yolks have a chance to get completely ruined cooked through. You can skip the yolks entirely and use egg whites only to make this dish even more calorie conscious.
Shakshuka
Ingredients
2 tbsp olive oil
1 onion, diced
4 garlic cloves, minced
3 ripe tomatoes, diced
3 heaping tablespoons tomato paste
½ tsp sugar
2 tsp cumin
¼ tsp cayenne pepper
Salt and Pepper to taste
6 eggs
2 tbsp chopped fresh cilantro
Instructions
In a large, deep skillet, saute onion and garlic in olive oil. Season with salt and pepper. When translucent, add diced tomatoes and saute over low heat for about 5-7 minutes more.
Add tomato paste, sugar, cumin and cayenne and mix very well. Add up to ¼ cup of water at this point to help achieve a sauce in which the eggs will simmer. Taste and adjust seasoning, adding more salt if necessary. Bring to a simmer.
Crack the eggs, one at a time, into a cup or small bowl. Using the back of a large spoon, create a well in the sauce and quickly slip the prepared egg into the well. Repeat with the rest of the eggs.
Sprinkle some salt and pepper over the top of the eggs and cover. Allow to simmer until whites are just set, about 5 minutes. Sprinkle cilantro over the top and serve immediately.