Author:
cookingwithtantrums
Please follow and like us: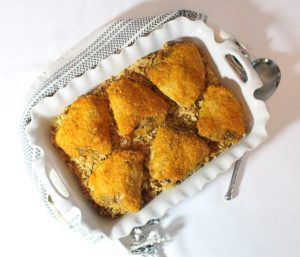 This recipe needs no introduction but I'll give you one anyway just in case. I've made this dish about a billion times and shared this recipe with hundreds of people who have gone on to share it with hundreds more and it's become a favorite in homes across the world. It's simple and so incredibly versatile that it's sure to become a favorite in your home too. I've made it many different ways and my current favorite is as listed in the recipe but feel free to omit or substitute ingredients and/or spices to suit your taste buds.
...continue reading Chicken and Rice
Please follow and like us:
I've always said I'd pay good money to watch a cooking show feature a mom with a screaming toddler on her leg. She would be my hero. How refreshing, the truth for once. And just think of all the valuable things we could learn. Like how to make a nutritious dinner entirely single handed because the baby is teething this week. Or, I don't know, how to chop onions while rocking a cradle with your foot. Just imagine, an entire episode dedicated to pause-cooking (which I just made up but should totally exist. It's 2016. Get it together, science.) because at any given moment someone, somewhere, needs something to be wiped and it would be a shame for the minced garlic to burn.. again.. ugh.
Please follow and like us: