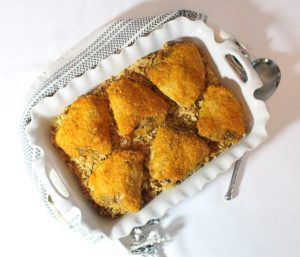 This recipe needs no introduction but I'll give you one anyway just in case. I've made this dish about a billion times and shared this recipe with hundreds of people who have gone on to share it with hundreds more and it's become a favorite in homes across the world. It's simple and so incredibly versatile that it's sure to become a favorite in your home too. I've made it many different ways and my current favorite is as listed in the recipe but feel free to omit or substitute ingredients and/or spices to suit your taste buds.

Don't like chickpeas? That's cool, I won't tell them. Replace with cubed butternut squash, or mixed frozen veggies, or sauteed mushrooms, or just skip them altogether. Whatever floats your boat.
Don't like paprika? Or need more flavor? Go nuts. Add whatever spices your hungry little heart desires. This recipe can handle whatever you've got. Bring it on.
Don't like white rice? Go ahead, have no fear. Brown rice works incredibly well. The only adjustment is the time in which it takes for the water to absorb in the initial step. No extra water. No extra time in the oven.
Don't like mayo? Umm.. ok.. I'm not sure we can be friends. What kind of person doesn't like mayo?!? Well, you're just going to have to trust me on this one and use it anyway. You won't taste it at all in the finished product and it makes the rice luscious. You heard me. Luscious. If you really can't handle it, though, word on the street is that coconut yogurt is a good stand in. But I don't speak from experience because I absolutely adore mayo and I'm loyal to the ones I love. I use lite mayo and it works just as well as full fat varieties.
Want to know if this reheats well? It does. Very well, in fact.
Want to keep the skin on? Knock yourself out. I prefer without but I appreciate our differences.
Want to use chicken breast instead? I know a few people have done it and said it worked out well but I've never tried it myself. I imagine the chicken would overcook or the rice would undercook. So I'm not saying you can't, but I'm not saying you can either. Definitely worth a try. Let me know how it goes!
Want to make the rice in advance and then add the chicken and bake it together the next day? You can totally do that. You may need to add some water to the pan to help things come along but other than that, you're all set.
Wondering if there's a typo in the recipe? There is not. It's 2 cups of rice and 2 cups of water. Not 4, just 2. Yes, really. Yes, I'm sure. Yes, it really is that good.
Can't use breadcrumbs? Top with whatever you like. French's Fried Onions make a great topping. Gluten free options are crushed potato chips, coconut flakes, crushed gluten free Rice Krispies or Rice Chex cereals. If you're more of a purist, simply dust with your favorite spices.
Any further questions? Or can we just get to the recipe already? Sheesh.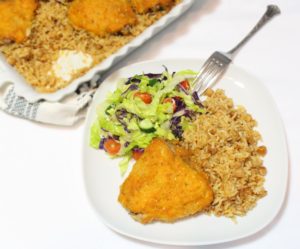 Chicken and Rice
Ingredients
2 tablespoons olive oil
1 large onion, diced
3 garlic cloves, crushed
salt and pepper to taste
1 tsp paprika
1 can chickpeas, drained and rinsed
2 cups rice
2 cups water
4 heaping tablespoons mayo, divided
6 chicken thighs, bone in, skin off
2-3 tablespoons flavored breadcrumbs
Instructions
Preheat oven to 350°F.
Heat olive oil in a deep skillet over medium heat. Add onions and saute until translucent. Add crushed garlic and saute 1 minute more. Season with salt, pepper and paprika. Add rinsed chickpeas and rice and allow to toast up for a few minutes before adding the water. Add water, cover and allow to simmer until all the water is absorbed, about 15 minutes.
Meanwhile, prepare the chicken. Coat chicken thighs with 2 tablespoons mayo and set aside.
Uncover the rice and stir in the remaining 2 tablespoons of mayo. Mix very well. Pour and spread the rice evenly into a greased 9x13 baking dish. Top the rice with chicken thighs and sprinkle breadcrumbs evenly over the chicken. Cover and bake for 1 hour and 30 minutes. Uncover and bake for an additional 15 minutes.